Welcome from the Course Director and Course Overview - HPO/ NLP/ 3 C'S / PERSONAL GROWTH / CORE COMPETENCIES /
NLP BUSINESS PRACTITIONER
Welcome To NLP at work and workplace coaching
"The success of any business depends upon the levels of commitment, confidence and competence of its people"
Mark Shields Head of International Investments. Barclays Bank Best of the Best Award 2006. NLP Master Trainer, Best Selling Author
Whatever part you play within the business, whether its sales, marketing, leadership, or service, your individual contribution, commitment, competence and performance is paramount to the ongoing success of your business.
We firmly believe it doesn't matter who you are, or how senior you are within the organisation, every individuals performance is as important as each others.
Learn how to leverage this individual accountability and success from all your staff. Your ability to lead defines your strength and how far you progress in your organisation, your ability to sell defines your success, not only how much business you can attract but how well you sell your ideas to colleagues and managers.
Your ability to negotiate defines your ability to get the best deal. Your ability to influence defines your mental strength and personal effectiveness, and your ability to market defines how you communicate your product in different mediums so that people have a tangible experience of relating to what is being sold
NLP is recognised as a useful tool in business as it enables businesses to improve sales, ensure better communication between staff members and departments ,improve nego- tiation and influencing skills and clarify business objectives. Many businesses have used NLP including British Gas, Bupa, Ladbrokes and Virgin and NLP can help small businesses, the self-employed and big businesses alike. In this essay, we will look at how NLP can be used for the various people within a business, sales and service staff, how business profitability can be increased as well as individual accountability and personal performance within the business. We will also look at effective goal setting and its importance in this environment.

NLP is often employed as a talking therapy and is used to overcome anxiety, phobias, and to reduce stress to name but a few. However, it is also ideal for business as it identifies ways in which people think, feel and behave and following on from this, ways that these can be changed if they are unhelpful to the person. So it follows that it can be used not only on a personal level privately but also within a business setting. It can be used by the individual employee, by managers and by the business leaders.
NLP was devised by Richard Bandler and John Grinder in the 1970s. They studied suc- cessful people across different disciplines in order to identify how and why they are so successful. They studied the ways that great communicators in the world of business delivered their messages, how people motivate themselves and others and how they persuade. They believed that if one person could do something then anyone could do it if they knew how, these skills would be transferable and it was merely a matter of finding out how the successful person excelled. NLP is the business of modelling excel- lence and then transferring excellence into any area of life where it is needed.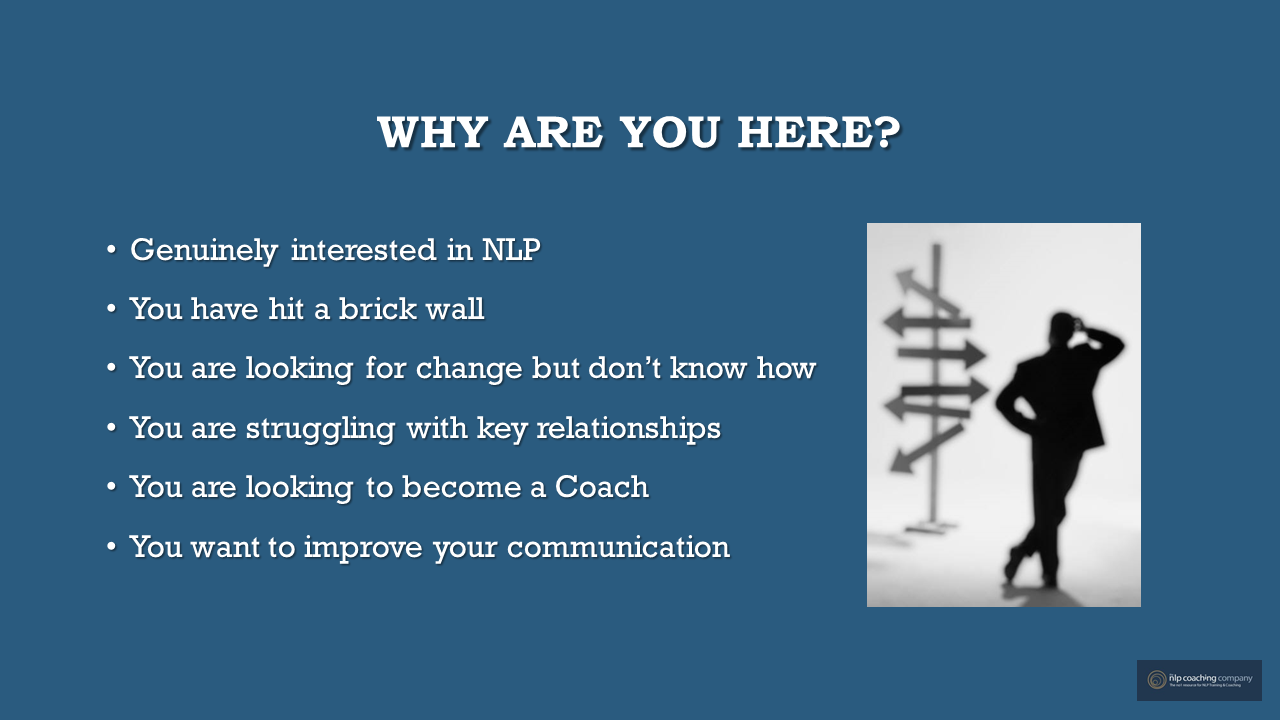 replace video and study guide
Complete and Continue