Industry Leading Accreditation with the ACCPH

Accredited Counsellors Coaches Psychotherapists & Hypnotherapists
Our Professional Practitioner Courses offer training and diploma accreditation at beginner, foundation, practitioner and mastery level. Certification levels 1 through to 6.

About ACCPH
ACCPH accreditation of courses and training will be of the highest standard and closely follow the level benchmarks set by Ofqual the Open & Distance Learning Quality Council or similar bodies.

"at ACCPH we believe in high standards and will only accredit quality courses. We will only allow those therapists and coaches who have undertaken a course of a high enough standard to join"
Our diplomas level 1 to 6
We certify all our Life Practice Academy courses from Beginner, Foundation, Practitioner and Mastery level of Certification with the grade being determined by the level of training you undertake. We certify foundation, professional practitioner and mastery levels of training for UK and international students.
All our courses are accredited externally through ACCPH Accreditation of Counsellors, Coaches, Psychotherapists and Hypnotherapists. Certification diploma levels accredited externally by ACCPH 1 through to 6.
ACCPH are an independent professional body and register for counsellors, coaches, psychotherapists and hypnotherapists. In our experience they are the leading professional body in the UK for their area of expertise.
Multi Certification & Accreditation
This means you can gain qualifications from several different sources. In our case we provide multi levels of accreditation depending on training level and course learning options.
We offer this as we have learned over the years our students want the best accreditation the industry has to offer. We achieve this by offering a choice of over 6 different professional memberships so students have choice and options, some joining just one accrediting body whilst others like to join several.
This fits perfectly with our unique style of multi certification training and multi modality learning.
We offer Industry leading professional qualifications through BathH The British Association of Hypnotherapists & NLP Practitioners, (the oldest professional membership body in the UK founded in 1953) and the GHR The General Hypnotherapy the LCD and full membership at Professional Practitioner Level, to ANLP UK'S largest NLP membership body.
For students studying clinical hypnotherapy you will be able to join the CNHC through our accrediting bodies BathH or the GHR. All foundation, practitioner and masters level of diploma are accredited by the Life Practice Academy.
Validated CPD with BANT British Association of Nutritional Therapists and professional membership offered to ANLP the UK's largest NLP membership body and NNA Naturopathic Nutrition Association.
Please note different courses carry different eligibility to join our membership bodies.
It is important to note that CAM Practitioners form part of the voluntary regulatory health sector. The following is taken from the NHS website.
Voluntary Regulation Defined. Professional associations and accredited registers for CAMs
Many CAMs have voluntary registers (some of which are accredited by the Professional Standards Authority for Health and Social Care, or the PSA) or professional associations that practitioners can join if they choose.
Usually, these associations or registers demand that practitioners hold certain qualifications and agree to practise to a certain standard.
Organisations with PSA-accredited voluntary registers include:
This means that these organisations have met the PSA's demanding standards, which are designed to help people make an informed choice when they're looking for a practitioner.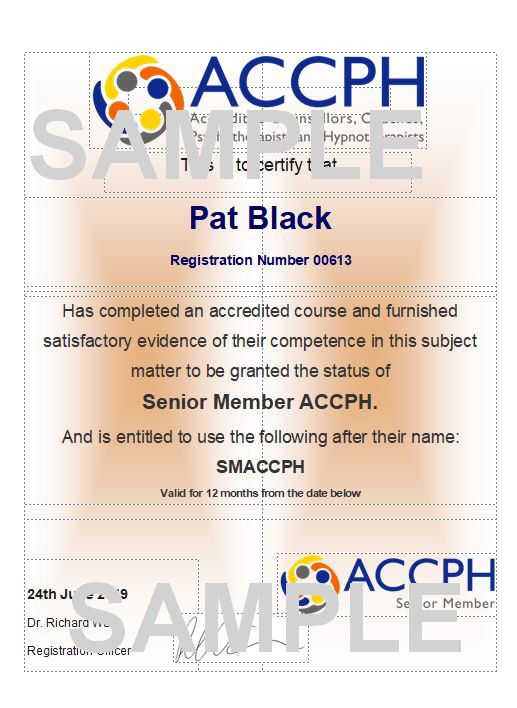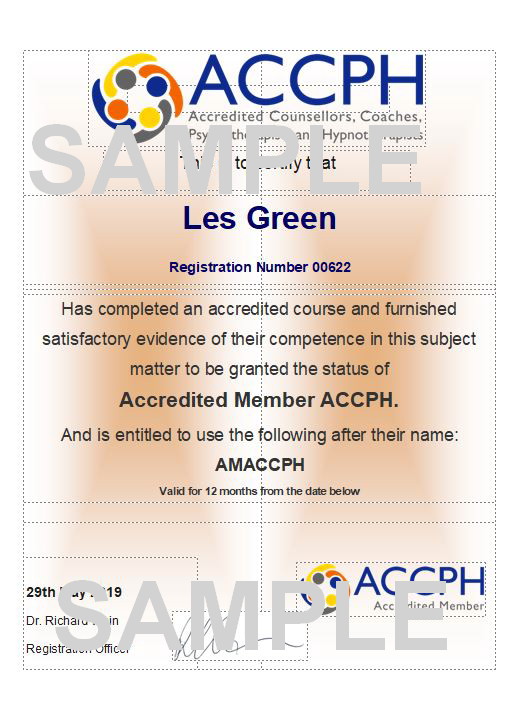 Official Transformational Coaching Specialists

Upon graduation every student receives a Professional Practitioner Graduation Pack which includes accreditation and logos enabling you to stand out from the crowd as a Certified CAM Transformational Coaching specialist